Three-Legged Goat Bonds With One-Legged Owner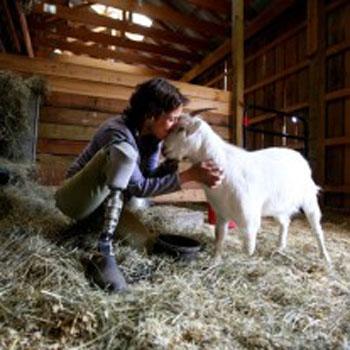 By Debbie Emery - Radar Reporter
They say four legs are better than two, even when they are split between man and beast.
A three-legged goat has found his perfect match with the one-legged owner who rescued him but is now in need of a new prosthetic leg to get his life back in balance, reported ABCNews.com.
Albie, a five-year-old white goat, had his leg amputated four years ago after he arrived at the Woodstock Farm Animal Sanctuary in New York state suffering from a terrible infection, and his plight struck a special chord with its director and co-founder.
Article continues below advertisement
Jenny Brown lost her right leg below the knee to cancer when she was just 10 and has worn a fake leg since, and was determined to give her new pet the same chance.
"Losing my leg hasn't stopped me, and I don't want it to stop any of my animals from living the best life possible," she revealed.
So she called the man who designed her extra leg and gave him the unique challenge of creating one for Albie.
"Goats' skeletons are very different from other animals ... because they have hooves," explained Brown. "It's like they're wearing little high-heeled shoes."
With his new addition, the little white kid could finally join the rest of the herd to play with his goat pals - and even found romance with a cute girl goat, Clover. "I think there's a little goat romance there," revealed Brown.
Past prosthetics have often been lost in fields around the sanctuary, "He shakes it off, or he lays down and it falls off. We end up finding it out in the pasture," but now Albie has outgrown his last leg and is in need of a new one.