Tea Party Group Compares President Obama To A Skunk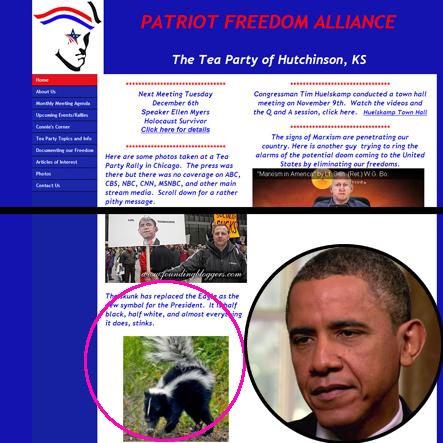 By Alexis Tereszcuk - Radar Senior Reporter
An extreme Republican Tea Party group is not backing down from a post on their website in which they compare President Barack Obama with a skunk, saying that it is satire and not offensive.
The Patriot Freedom Alliance, the Tea Party fraction of the Republican Party in Hutchinson, Kansas, put up a picture of a skunk and said the skunk has replaced the eagle as the symbol for the president. 
Article continues below advertisement
"It is half black, half white, and almost everything it does, stinks," the site read.
"It's satire is what it is," Thomas Hymer, who manages the website, told the Hutchinson News. "Satire in a politically incorrect form," he said.
President Obama's mother was a white American and his father was a black African.
Darrell Pope, president of the Hutchinson branch of the NAACP, disagreed with Hymer and the Tea Party, saying he doesn't see the humor in it and called it "a blatant statement of racism."