Simon Gets Smart: Cowell Downgrades From A $1 Million Bugatti To A Much More Modest Ride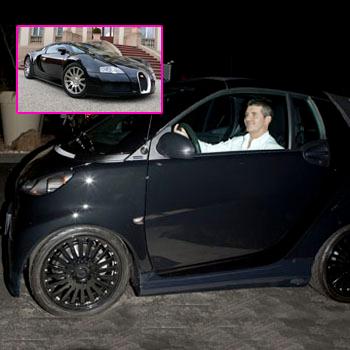 By Debbie Emery - RadarOnline.com Reporter
Simon Cowell is a lot smarter than most people give him credit for and his new set of wheels show how money-savvy the reality judge really is.
Despite his multi-million dollar fortune, the X Factor star's new purchase is very economically restrained as he's now hitting the highway in a nifty little Smart Car, and RadarOnline.com has photos of his latest ride.
The 52-year-old television mogul is most often seen hitting the gas in a flashy, sleek Bugatti Veyron sports car, and even he is finding his latest purchase amusing.
Article continues below advertisement
"Everyone is laughing at my new car. But I love it and it glows in the dark!" he tweeted on Wednesday, along with a photo of him smiling cheerfully from the driver seat.
With prices for the Smart Car ranging from $12,490 to $17,690, it is a fraction of the price of the Bugatti, which Cowell reportedly paid close to a million dollars for.
The little run-around gets a wallet-friendly 41 mpg on the highway, which is a far cry from the sports car that has a top speed of 253.81 mph.