Sara Gilbert & Kids, New Girlfriend, Check Out Farmer's Market In LA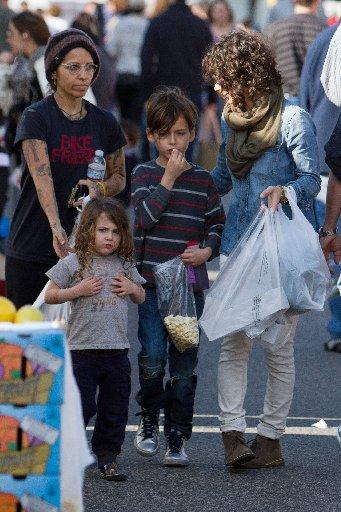 Sara Gilbert was snapped at the Farmers Market in Los Angeles with her son Levi, daughter Sawyer, and new gal pal Linda Perry, and we've got the shots for you right here on RadarOnline.com.
The Roseanne star wore a denim shirt, a hunter green scarf and dark glasses, chowing on popcorn with her clan.
Gilbert, 36, was in a 10-year relationship with television producer Alison Adler until their split in August. They share custody of their two children.
Article continues below advertisement
As RadarOnline.com previously reported, Sara and Linda went public with their romance after they were spotted holding hands together back in November.
Perry, 46, was the lead singer in the band 4 Non Blondes, still well-remembered for their 1993 hit, What's Up?
Perry's produced hits for Pink, Christina Aguilera and Gwen Stefani, and previously dated Cybill Sheppard's daughter, Clementine Ford.
Fun fact: What's Up? ranked 94th on VH1's top 100 list of greatest one-hit wonders.