Ringless Russell Brand And Katy Perry Spend Holidays Apart: Is Split Brewing?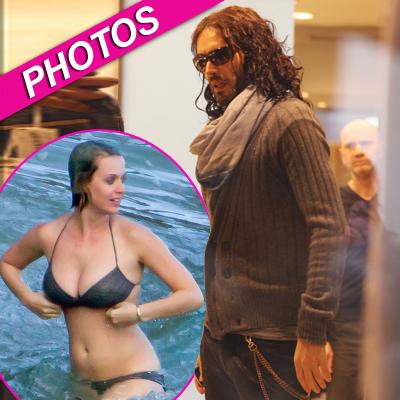 Will Russell Brand and Katy Perry make it through 2012? Heck, 2011?
Speculation runs rampant the comic and pop singer are on the outs after the duo spent Christmas 7,000 miles apart: he in Cornwall, England, she in Kauai, Hawaii.
Further fanning the flames was that, in recent pics, Brand did not have his wedding ring on.
A source told Us Weekly magazine the pair had "a massive fight" over their holiday plans, less than 15 months after they tied the knot in an elaborate ceremony in India.
Article continues below advertisement
The source told the magazine, "She was like, 'F--k you. I'm going to do my own thing,' and Russell said, 'Fine, f--k you too!'"
Earlier this month, the Get Him To The Greek star told Ellen DeGeneres that he and the Firework singer are happily married, despite reports divorce papers were in the offing.
When Ellen asked Brand about the breakup rumors, he said, "What?!? She should have told me!
"I am really happily married," he told Ellen. "Perpetually, until death do us part, was the pledge."