Rachel Uchitel Is Pregnant, Tweets Pics Of Baby Bump!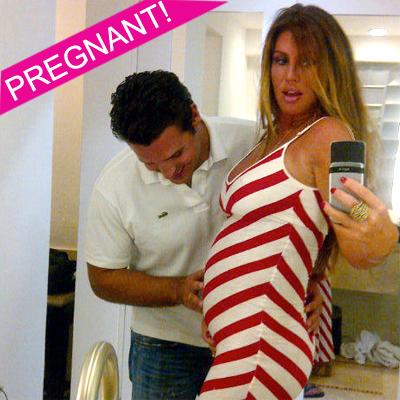 Former Tiger Woods' mistress Rachel Uchitel announced Tuesday she's five months pregnant, tweeting pics of she and new hubby Matt Hahn embracing, with a baby bump in full view.
The New York native tweeted, "Expecting big things for 2012... Five down, Four months to go..." and "checking out my baby bump at 5 months..."
After marrying Hahn in October, Uchitel told us exclusively last month that "a baby is the plan," adding she doesn't care if she has a boy or a girl, as long as the child is healthy.
Article continues below advertisement
Uchitel, 36, said if she is pregnant with a boy, she hopes "he'll be as handsome as his dad!"
Uchitel became a tabloid regular after she was revealed as the Manhattan party planner who was the first mistress reported in the Tiger Woods infidelity saga, setting off a domino effect of more than a dozen women emerging to tell stories of their trysts with the then-married golfer.  She parlayed her fame into a stint on Celebrity Rehab with Dr. Drew, where she sought guidance for her 'love addiction.'