Tiger Comes Out Of The Woods With First Golfing Victory In Two Years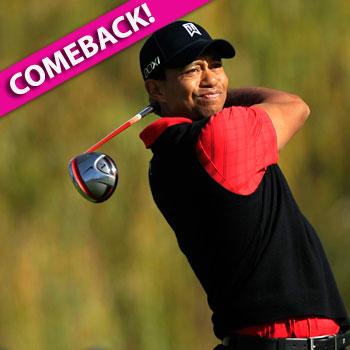 Tiger Woods has won his first golfing victory in two years.
The shamed golfer was tied on the 18th hole with Zach Johnson before finally getting the victory at the Chevron World Challenge in Thousand Oaks on Sunday.
He punched the air with glee and waved to fans and seemed relieved. "It feels great," Tiger said. "It feels awesome."
At times throughout the game Tiger seemed anxious and the atmosphere was electric as fans cheered him on with chants of "Take it home today Tiger!"
Article continues below advertisement
It wasn't an easy game with the windy weather and chilly day, but Tiger seemed focused on finally putting his demons to bed.
The once number one golfer fell spectacularly from grace after his world imploded Thanksgiving, 2009 when a fight with his wife Elin Nordegren led to revelations that he'd had numerous affairs.
Tiger went into rehab for sex addiction but it wasn't enough to save the marriage and the couple eventually divorced.