Exclusive
Celebrity Jet Leaking Fuel Scandal: Close Call For Charlie Sheen, J.Lo & LeBron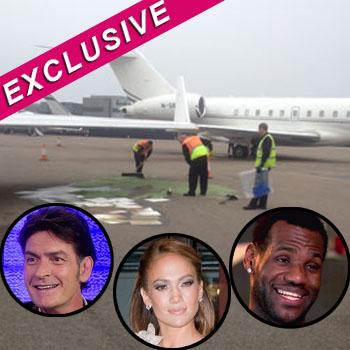 By Dylan Howard - Senior Executive Editor, Star magazine
& Chelsea White - Reporter, Star magazine
A former pilot-turned-whistleblower has claimed a cavalcade of Hollywood stars could have been killed after using a dangerously unsafe private jet, Star magazine is exclusively reporting via RadarOnline.com.
Veteran chief pilot George Thomsen has accused California's Crystal Air Aviation of allowing celebrities including Jennifer Lopez, Charlie Sheen and NBA superstar LeBron James to fly on a mechanically unsafe Gulfstream 4 jet, which he said almost exploded due to an extreme fuel leak.
Article continues below advertisement
The Federal Aviation Administration has opened an investigation into Thomsen's claims, Star has learned, after he quit his post at the airline just six weeks into the job.
He also wrote a damning whistle-blowing letter to authorities with photos purporting to back his sensational allegations.
EXCLUSIVE DOCUMENT: Read George Thomsen's Resignation Letter
In a copy of his November 23 resignation letter sent to the FAA - which was obtained exclusively by Star - Thomsen wrote that after reviewing the company's records there were "major safety issues by allowing the aircraft to fly" and said some of his colleagues were "unsafe in the cockpit and qualified as Pilot in command."
He said the airline did not "comply with Federal Aviation Requirements" and he had found missing monthly reports that led him to believe the "company continues to operate outside the FAA guide lines."
EXCLUSIVE DOCUMENTS: See The Company Brochure For The Jet And Read The Press Release
"The past assigned management and chief pilot have failed to meet and complete the required... compliance of proper record keeping and have shown no interest in cleaning up past items," Thomsen wrote, in the missive that sparked the investigation.
Article continues below advertisement
"I have asked past employees to come in and clean up the paper work. This has not been completed to date."
Speaking exclusively to Star, Thomsen detailed how he quit after he completed a safety audit and uncovered problems with everything from the multi-million dollar plane's navigational device, weather RadarOnline.com and fuel lines.
Thomsen said he told company bosses about his fears that the GIV N45AC jet posed a life-threatening risk to both himself, the crew and the celebrities that flew on it.
"I am very new to that company and it didn't take me long to want to get out," he told Star.
"I started to audit the company as its new chief captain and I am finding all kinds of things that aren't good."
Mr. Thomsen - himself a former FAA safety inspector - said he believed Crystal Air put cashing in on their celebrity clients ahead of lives.
"My whole career of 42 years of flying has been about safety. These guys for whatever way possible to shortchange training, shortchange maintenance and jeopardizing safety. They are jeopardizing safety and lives."
Article continues below advertisement
Shockingly, in one of the worst incidents according to Mr. Thomsen, Miami Heat power forward LeBron James narrowly escaped death after flying from Ohio to London on November 11.
James and his entourage - which included notorious sports agent Tederick Curvy and the basketballer's long time friends Ernest 'Randy' Mims, Maverick Carter and Richard Paul, who are known as the Four Horseman - travelled to London for an appearance at Nike's School of Basketball.
Yet, when it was time to return to the United States, the private jet was grounded after Thomsen discovered a "major fuel leak" during the jet's refueling, that spewed potentially explosive fuel under the aircrafts' right wing.
The leak was so bad, authorities at London's Luton Airport immediately called in HAZMAT experts and blocked off the area, as these exclusive photographs provided to Star reveal.
Article continues below advertisement
Said Thomsen, "This is not drips. But streams of fuel running over the landing lights and the landing gear. It would be a safety hazard both on takeoff and landing. It could go on to the brakes and could cause a fire. It would blow up."
According to the whistle-blower, Crystal Air asked him to fly the plane back to its base as the repair bill there would have been cheaper.
"It would have definitely jeopardized safety and I would have never done that," Mr. Thomsen told Star, adding that he refused their request, grounded the flight and forced James and his crew onto another plane to get home.
In two separate incidents, Thomsen claimed the jet almost crashed after it overran the runway at Gander International Airport in Newfoundland, Canada, in October 2010. In another case, the plane was grounded when severe issues with its navigational equipment were discovered during a flight to South America, with the rock band Red Hot Chili Peppers on board.
"They sent a mechanic down there that wasn't even qualified to fix it," Mr. Thomsen told Star.
Article continues below advertisement
Despite the issue, Thomsen said the company still flew the multi-platinum award-winning band home on the troubled aircraft.
"As a senior captain on Gulfstreams for as long as I have flown, the fact someone can't land a plane on a 10,000 foot runway, I simply don't understand that," Thomsen added.
He also alleged the jet was flying for over a year with major instruments' circuit breakers detached, as well as no weather RadarOnline.com and issues with other navigational equipment.
"This included the windsheer (detector) device which effects the landing," Mr. Thomsen revealed, adding. "Windsheer could push the plane into the ground. It should have grounded the plane."
When he resigned, the company told him there had been a "misunderstanding."
The airline's owner, Robert Salvo, wrote in an email to his former chief pilot, that he felt there were "misunderstandings on both sides to accurately communicate with each other our mutual visions."
Article continues below advertisement
"Your challenges with our personnel and aircraft were unfortunate but I feel rectifiable and something that I had hopes your position would resolve," Salvo added.
Thomsen said, though, after blowing the whistle, he has become the target of anonymous threats.
"I have been getting threatening calls from people ringing up and saying, 'I'm going to destroy you' and then hanging up," the pilot revealed to Star.
For the full story pick up the new issue of Star magazine — on newsstands Thursday.
In a statement to RadarOnline.com and Star, the company said: "Crystal Air Aviation has always held the highest standards of safety. As such, the lives of its valued passengers have never and will never be put in jeopardy. Our commitment to providing safe and VIP class comfortable travel is the reason why we are the preferred provider to the leading world's celebrities and clientele."