Muy Caliente! Super Sexy Jennifer Lopez Gets Steamy In New Video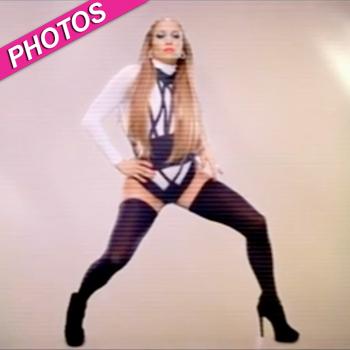 As will.i.am says, she got it from her mama.
Jennifer Lopez, 42, shows off a jaw-dropping sexy figure in her cameo in the Black Eyed Peas front man's video for T.H.E., the first single off his album, Willpower.
Wearing sexy get-ups like a form-fitting lace bodysuit and a Lycra number and stockings that showed off her thighs, the American Idol star shows off some of the sexiest shimmies we've seen in the MTV era.
Article continues below advertisement
With her taut tummy and rock hard bod, it's hard to believe that the sexy Latina is a mom!
J.Lo has two kids, twins Max and Emme, who turn four in February, from her marriage to Marc Anthony.
Also making a cameo in the Rich Lee-directed clip is Rolling Stones legend Mick Jagger.
J.Lo's had a year full of highs and lows, including a successful stint on Idol, a smash-hit single with On The Floor, and the break-up of her marriage to Marc Anthony. She's currently involved with dancer Casper Smart, 24.