Paris Hilton Is The Neighbor From Hell!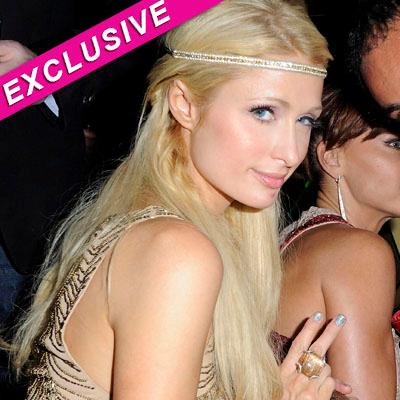 By Jen Heger - RadarOnline.com Legal Editor
Paris Hilton's neighbors in the posh gated enclave of Mulholland Estates are furious that the hotel heiress threw her Christmas party in the middle of the week and are hoping she moves out of her Beverly Hills mansion, RadarOnline.com is exclusively reporting.
Hilty threw her annual Christmas party last Wednesday, and there were more than 100 people in attendance. Guests visiting Mulholland Estates must check in at the front gate, and most of Paris' guests all descended at the same time, causing a huge back-up.
Article continues below advertisement
"Paris' parties are legendary. She always goes all out. Non-invited guests that were going to visit other people's houses had to wait almost 35 minutes in line on a Wednesday night, just to get into to see the person they were going to visit. Paris does provide valet parking for party guests, and this clogs the streets around her house. Paris is the neighbor from hell," an insider tells RadarOnline.com.
The Mulholland Homeowner's Association prohibited Paris from shooting her now canceled Oxygen series, The World According To Paris. "The Mulholland Homeowner's Association fired off a letter to Paris shortly before she was going to begin filming at her house.
The MHA told her no camera crews would be admitted entrance to the community. Celebs and Hollywood power players that live in Mulholland moved there to escape the glare of the cameras.
Article continues below advertisement
"Paris had proven to be at that point, very disrespectful to her neighbors, with the loud parties, and constant stream of people coming and going from her house, and let's not forget the criminal element that has besieged Paris since she moved in. Her house was burglarized multiple times, she had a knife wielding stalker that tried to break into her house," the neighbor reveals.
Paris' celebrity neighbors include, Slash, Charlie Sheen, and Denise Richards. "Slash is an ideal neighbor. He is very thoughtful, and a low key person. Slash is a family man, and is very respectful of everyone that lives at Mulholland. Charlie (Sheen) has had his moments of driving his neighbors crazy, but that is usually for a short time, and when the dust settles, things go back to being quiet at his house. Denise is extremely shy, but very well liked by everyone," the source says.