Model Injured By Plane Propeller Tells Parents: 'I Love You'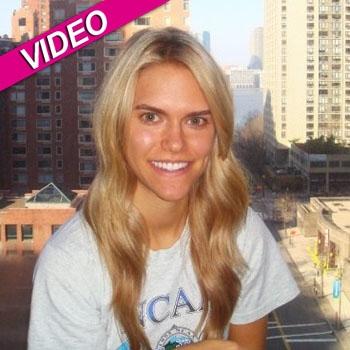 By Debbie Emery - Radar Reporter
The model and fashion editor who lost her left hand and had her face slashed in a plane propeller accident on Saturday is finally talking and expressing her gratitude to those trying to nurse her back to health.
Currently recovering from several surgeries in the ICU at the Parkland Hospital in Dallas, Texas, Lauren Scruggs managed to say both her name and, "I love you" to her distraught parents, ABCNews.com reported.
Article continues below advertisement
Having already lost her hand, Lauren also suffered extensive injuries to her face, brain, and shoulder and her family are now praying that she will not lose the sight in her left eye.
"It's just going to be a long journey, a long recovery," said her father, Jeff Scruggs.
As RadarOnline.com previously reported, the pretty blonde had gotten off the two-seater 2011 Aviat Husky A-1C-180 aircraft at a private airport in McKinney, Texas, after enjoying a festive flight to look at Christmas lights and walked directly in front of the propeller.
According to ABC News, Lauren's parents Cheryl and Jeff said that they believe the 23-year-old walked back toward pilot Kurt Richmond's plane at the private airport north of Dallas to say a final thank you, perhaps as he was preparing to take off again.
Lynn Lunsford, Mid-States Public Affairs Manager with the Federal Aviation Administration, told RadarOnline.com that one of the key aspects in the investigation focused on why the propeller was still moving when Scruggs got off the plane.
Article continues below advertisement
"It appears that the pilot left the engine running at idle while she exited the plane to switch places with another passenger. That's one of the aspects of the investigation," Lunsford explained.
A website that has been launched to keep concerned followers updated on Lauren's condition revealed on Tuesday that only her close family are currently permitted to see her.
"Due to the risk of infection, there will be NO VISITATION until further notice. This is a critical time, and we can not risk Lauren being exposed to virus," posted friends on CaringBridge.org.
On Tuesday, her friends and family wrote a positive update detailing her progress. "Lauren was more responsive today, being her usual sweet self. Whether it was saying, 'Thank you" to the nursing staff, or telling her family, 'Sorry for sleeping so much,' she was an absolute joy."
A fund has been set up for Lauren's medical bills, at this time you can donate at any Frost Bank to the: Lauren Scruggs Hope Fund, or donations can be made through http://www.PayPal.com to laurenscruggshopefund@gmail.com.