Lady Gaga Named AP's Entertainer Of The Year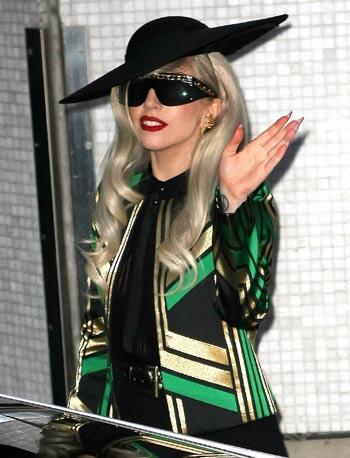 The Associated Press named Lady Gaga the Entertainer of the Year Monday, as the pop superstar edged late Apple founder Steve Jobs by just three votes.
The honor, voted on by 135 AP editors and broadcasters, is based on who had the most influence on entertainment and culture in 2011.
The singer, 25, has touched on a number of facets in the past year, from a hit album in Born This Way to a record-17 million Twitter followers to her tireless social work, which has recently been focused on the campaign against bullying.
Article continues below advertisement
The singer has stepped up her anti-bullying efforts following the suicide of her fan Jamey Rodemeyer, a 14-year-old from Buffalo, New York, who killed himself in September after being teased by peers over his sexuality.
In May, the teen had posted a Youtube video titled "It Gets Better," in which he praised the singer for helping teach tolerance through her art.
"She lets me know that I was born this way," the late Rodemeyer said in the viral video, referencing the singer's hit.
Earlier this month, Gaga met with officials at The White House to discuss the hot topic.
Jobs's impact on pop culture was felt in the wake of his death in October, which prompted countless memorials from celebs, including Arnold Schwarzenegger, Ashton Kutcher and Howard Stern.
Betty White, Taylor Swift, Tina Fey and Stephen Colbert are recent winners of the honors.
RELATED STORIES:
Jimmy Fallon Takes On Justin Bieber And Russell Brand In SNL Duet With Michael Bublé