Jay-Z Cheers On Kris Humphries As Nets Suffer Humiliating Home Debut Defeat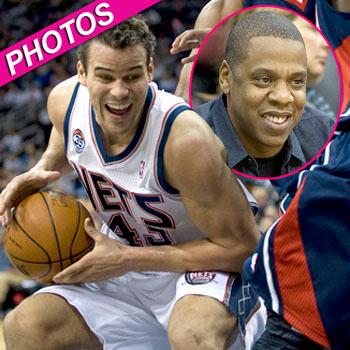 Even a little star power couldn't help Kris Humphries Tuesday night as his team The New Jersey Nets suffered a humiliating defeat at the hands of the Atlanta Hawks.
Jay-Z was front and center cheering on his team -- he owns the Nets -- but unfortunately they were soundly beaten 106-70 in their first home game of the NBA season.
For once, the crowds took a break from booing the 26-year-old ex-Mr. Kim Kardashian, shouting "we love Humphries," but it's likely the player would have happily swapped the cheers for jeers if it would have meant a few extra points.
Article continues below advertisement
Kris did manage to score 11 points though and was the defensive leader with six rebounds, but it still wasn't enough to tip the game in the Nets favor.
Humphries has been under the spotlight since his return to the game following his much publicized split from his wife of 72 days, and the pressure appears to be showing.
Avery Johnson, the Nets coach was decidedly unimpressed, telling reporters: "There is no excuse. Take your hat off to Atlanta. They were rested and ready, locked and loaded, and they were ready to go from start to finish. We just couldn't get untracked."