Winter Workout! Kevin Federline Goes Tubing On The Slopes With Kids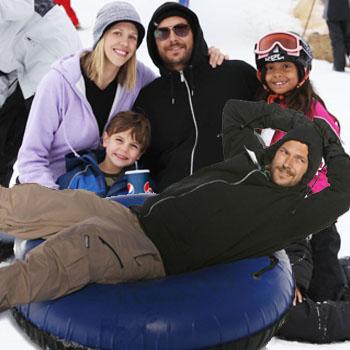 Now we know were his spare tire's gone!
Kevin Federline has been fighting a well publicized battle of the bulge, but it didn't stop him from squeezing into a tube to go down the slopes in Lake Tahoe over the weekend.
The 33-year-old former hunky backup dancer was acting the part of responsible father-of-five as he took his visibly reduced paunch – and his kids – for the fun day out.
K-Fed was pictured with his six-year-old Sean Preston, from his marriage to Britney Spears and Kori, 9, and Kaleb, 7, from his relationship with Moesha actress Shar Jackson.
Article continues below advertisement
Federline seemed to be having a ball as he whizzed down the slopes with his brood who giggled the whole way down.
The kids also got snowboarding lessons from a female instructor and were decked out in trendy ski gear.
His latest baby mama Victoria Prince joined in the frivolity but left their four-month-old baby daughter Jordan in the warm.
Kevin has just got back from filming weight loss reality show, Excess Baggage, in Australia and although it appears that he wasn't the biggest loser, he may get a prize for being the most fun dad!