Victoria Prince Has Lost The Excess Baggage, But Not Kevin Federline!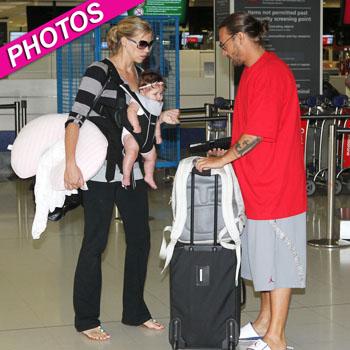 K-Fed is still looking pretty well fed these days.
The ex-Mr. Britney Spears should take some pointers from his baby mama Victoria Prince on how to get back into shape for his new reality weight loss show Excess Baggage!
Less than six months after giving birth to their first child together, K-Fed's girlfriend showed off her slender, post-preggers body making her way through the Sydney airport with baby Jordan Kay, while Federline looked like he was carrying more than his fair share of weight.
Article continues below advertisement
Looking incredibly sloppy in an extremely large t-shirt, below the knee shorts and what appeared to be bedroom slippers, K-Fed toted a suitcase through the airport terminal, while Prince proudly toted her baby girl in a Baby Bjorn on her tummy.
The former volleyball player looked tiny compared to her man, showing off her slender legs in flared pants and a striped top.
Federline has been in Australia filming Excess Baggage which is the Down Under version of Celebrity Fit Club.