Life's A Beach! Kevin Bacon Finally Afloat Again After Being Wiped Out By Madoff Scandal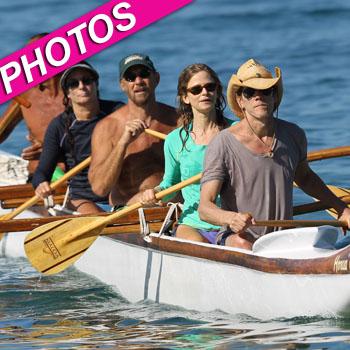 It's great to see Kevin Bacon afloat again after suffering the loss of his life savings at the hands of disgraced investor Bernard Madoff.
The Footloose star and his wife, Kyra Sedgwick were pictured canoeing in the ocean in Maui on Monday and looked as if they didn't have a care in the world.
It's a far cry from just a couple of years ago, when the 53-year-old actor learned he had been taken to the cleaners as an unwitting investor in Madoff's $50 billion Ponzi scheme.
Article continues below advertisement
As RadarOnline.com previously reported, Bacon spoke out in May about the scandal, telling Details magazine: "I'm not going to say it didn't have its emotional downsides."
He managed to see the bright side though, going on to say: "But Kyra and I are both young, and we both had the ability to work and roll up our sleeves and start putting the pieces back together. The truth is that we went through it together."
Thankfully, the actor has enjoyed somewhat of a career comeback recently after having struggled for some time to find major movie roles.
Bacon starred as super-powered villain, Sebastian Shaw, in the summer blockbuster X-Men: First Class and also appeared in the romantic-comedy-drama, Crazy, Stupid, Love.
Meanwhile, 73-year-old Madoff remains incarcerated at the Butner Federal Correctional Institution serving his 150 year sentence.
Article continues below advertisement
Madoff pleaded guilty in March 2009 to securities fraud, mail fraud, wire fraud, investment advisor fraud, three counts of money laundering, false statements, perjury, false filings with the SEC and theft from an employee benefit plan.
In addition to his sentence, he was also subject to forfeiture of $17.179 billion from his personal fortune.
RELATED STORIES: