Hulk Hogan Sues Ex-Wife Linda For Defamation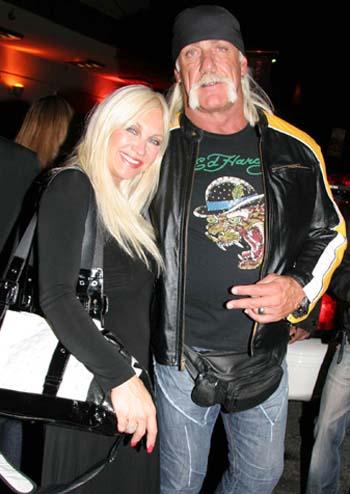 One of the most bitter splits in recent Hollywood divorce history -- Hulk and Linda Hogan -- is back to full boil.
Hulk, real name Terry Bollea, filed a defamation suit against Linda on Thursday in Clearwater, Florida, where the couple lived for several years and where she is still trying to sell their former mansion.
In the suit, Hulk claims that several allegations Linda made in her book Wrestling the Hulk - My Life Against the Ropes, released earlier this year, are untrue.
Article continues below advertisement
"He's being accused of all sorts of vile conduct that he did not commit," his attorney, Wil Florin, told the St. Petersburg Times.
The suit says Linda conducted promotional interviews with Today, Fox News and a radio show among others. In one, she claimed she was fearful of ending up "a statistic" like Nicole Brown Simpson, implying she feared Hulk was going to kill her. In another interview, she claimed Hulk had a homosexual relationship with a fellow pro wrestler.
The suit states these allegations are false and that they "harmed the reputation of Mr. Bollea, exposed him to distrust, hatred, contempt and ridicule" and hurt his occupation and business.
As RadarOnline.com reported last month, Linda received $7.4 million and several houses and cars in the settlement of their 2009 divorce.
The former couple is still fighting over some of the fine print of the settlement and Linda has recently chopped millions off the asking price of the Tampa Bay area estate she is trying to unload.