Glee's Lea Michele Sounds Off On Sarfati, Superstition & Streisand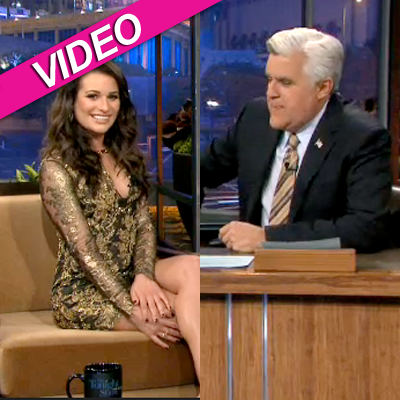 By Adam S. Levy - Radar Staff Writer
Glee's Lea Michele, appearing on The Tonight Show with Jay Leno Wednesday, touched on a number of topics, from her real name to her New Year's Eve traditions to a brush with Babs.
The 25-year-old stunner's birth name is actually Lea Michele Sarfati, and she explained to Leno the mix-ups that led to her adopting her middle name as her last.
"I don't use it a lot because I got Lea So-fatty, Lea So-farty at school," said Michele, who wore a sexy gold mini-dress in the appearance. "So when I was little and I went on my first audition they were like, 'And may we have your name?' and I was like Lea Michele -- and I've been Lea Michele ever since!"
Article continues below advertisement
Leno asked Michele, "Is that Italian?"
"It's Sephardic, which is Spanish-Jewish," she said. "We're from Spain, got kicked out…"
Leno joked, "Now why did you get kicked out? Was the skirt too short?"
Michele stars opposite Ashton Kutcher in the upcoming ensemble piece New Year's Eve. The beauty said the year's final night happens to be her favorite holiday on the calendar, and that she and her mother have a number of superstitions each year, like wearing special clothes and eating exactly a dozen grapes.
"We figure if we just do it all, something good will happen," she said.
Michele, who has extensive experience performing on Broadway, recalled an encounter with Barbara Streisand.
Watch the video on RadarOnline.com
She said she was watching her favorite show Hoarders when one of the program's subjects had a doll of Streisand (likely, a limited edition 2009 Barbie incarnation of the legendary star) she said she had to have. She said after she put out a tweet wondering how she could get a hold of the hoarder, Babs herself tweeted her back, letting her know the doll was on the way.