Exclusive
Disney Show Actors Dish On Being Regular Kids, 'We're Not Stars'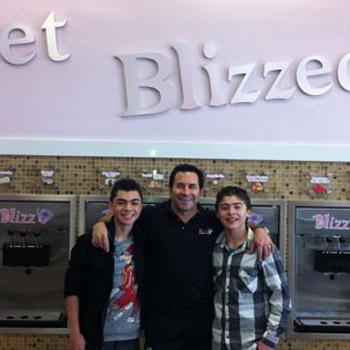 By Alexis Tereszcuk - Radar Senior Reporter
Being a Disney star is a good time, but these young guy aren't letting fame go to their heads.
Adam Irigoyen and Ryan Ochoa spent Saturday afternoon meeting fans at the Real Housewives of Beverly Hills star Adrienne Maloof's husband's frozen yogurt store and told RadarOnline.com what it's like to have such cool jobs at a young age.
"It's not work to me, when you have fun doing it, it isn't work to me," Pair of Kings star Ryan Ochoa said while hanging out with Dr. Paul Nassif at the Blizz Yogurt store in Sherman Oaks.
Article continues below advertisement
He plays the bad guy on the show, but said that it's a lot of fun. "I'm so opposite of myself and who I am. It is so fun, and I get to do a lot of stunts for getting hurt, I get hit with darts, I get eaten by monsters, but somehow I always stay alive."
Shake It Up star Adam Irigoyen said despite being a Disney star, life is normal for him. "I don't look at myself as a star," he admitted, while girls waited in a line down the block to meet him at the event. "I'm a regular kid; don't let anyone tell you otherwise I don't have a bed time but I have to go to bed early especially when my call time is 7 a.m., which it always is. As for a curfew – I don't go out unless it's with my parents or friends from other shows with parents that my parents trust."