Celebrity Sweatshop Scandals! Other Stars Who Have Been Under Fire For Their Fashion Practices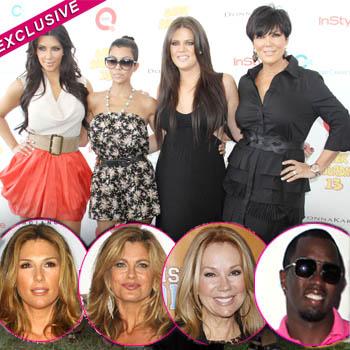 The Kardashians aren't the only famous fashionistas who have been accused of using sweatshops to produce clothing lines. After the shocking allegations reported by Star magazine that the famous family is endorsing and selling fashion products manufactured in foreign sweatshops, where workers, some as young as 16 years old, are abused and virtually imprisoned, RadarOnline.com has details about other celebrities who have been involved in sweatshop scandals over the years.
Article continues below advertisement
American television host Kathie Lee Gifford was shocked when the National Labor Committee human rights group filed a 1996 report that her Wal-Mart clothing line was being produced in a Honduras sweatshop. Though Gifford maintained that she wasn't involved in the management of her factories and wasn't aware of the conditions, she investigated the allegations and later went on to campaign against international sweatshops with President Bill Clinton.
Sean "Puffy" Combs ran into some trouble back in 2003, after the New York Times published a report that his Sean John line used a Honduras sweatshop to produce tens of thousands of shirts.
''It's a bad place to work, depressing; there's a lot of humiliation,'' said Lydda Eli Gonzalez, a worker in the sweatshop told the New York Times, who maintained that 'the factory's managers yelled and cursed at workers, forced them to work unpaid overtime and fired employees for being pregnant. She said that when workers sought to unionize last summer to improve conditions, she and 14 other outspoken union supporters were suddenly fired.'
Article continues below advertisement
Back in 1996, Sports Illustrated swimsuit model Kathy Ireland was shocked when a Brooklyn garment factory that produced her clothing line for Kmart was raided and several arrests were made.
And 1990s icon Daisy Fuentes was the center of scandal in 2007, when she was accused of using Guatemalan sweatshops to manufacture her Kohl's line.
Would you still support a clothing line after learning that they produced their goods in sweatshops? Sound off below.