Exclusive
American Manufacturing 'Disappointed' Kardashians Don't Use U.S. Factories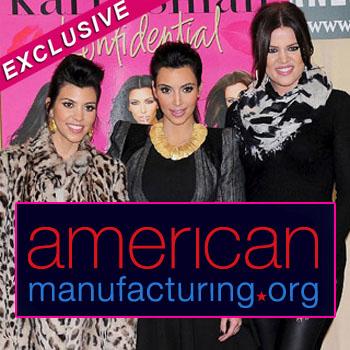 By Jen Heger - Radar Legal Editor
A representative from American Manufacturing is disappointed that the Kardashian clan has their clothing and shoe collections produced in China, and not the United States.
The allegations about Kardashian products in this post have nothing to do with their products sold at Sears.
As RadarOnline.com previously reported, a prestigious human-rights watchdog organization has launched an investigation into America's top TV family, with officials imploring the Kardashians not to profit from what amounts to "slave labor."
Article continues below advertisement
"The Kardashians are in bed with some pretty bad people," Charles Kernaghan, the executive director of the Institute for Global Labour and Human Rights, tells Star. "Not only are celebrities like the Kardashians taking advantage of these workers, they are holding hands with a government that spits on democracy and women's rights."
With unemployment in the United States hovering around 10-11 percent, Steven Capozzola, media director for American Manufacturing tells RadarOnline.com, "It's unfortunate whenever companies choose to outsource production to countries like China that have poor labor standards, when there are so many domestic U.S. companies that stand ready to manufacture safe, high-quality products."
American Manufacturing's mission statement is, "The Alliance for American Manufacturing (AAM) is a unique non-partisan, non-profit partnership forged to strengthen manufacturing in the United States. AAM brings together a select group of America's leading manufacturers and the United Steelworkers. Our mission is to promote creative policy solutions on such priorities as international trade, energy security, health care, retirement security, currency manipulation and other issues of mutual concern.
Article continues below advertisement
"We believe that an innovative and growing manufacturing base is vital to America's economic and national security, as well as to providing good jobs for future generations. AAM achieves its mission through research, public education, advocacy, strategic communications and coalition building around the issues that matter most to America's manufacturing sector."
While the Kardashians are involved with many fine consumer products in the fashion, beauty, fragrance, health and lifestyle industries that are not part of this investigation, there are several brands that are coming under fire. Items in the family's high-end K-Dash by Kardashian label and the Kris Jenner Kollection — sold on the home-shopping television network QVC — and ShoeDazzle, a company that Kim cofounded and endorses, are all manufactured in areas of China where government regulations are often ignored and workers are subject to inhumane conditions.