Canadian High School Sets Off Fireworks In New Viral Video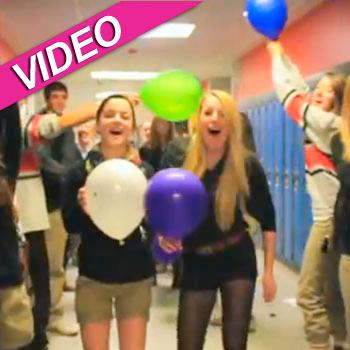 By Amber Goodhand - Radar Reporter
Two Canadian high school students took their class assignment to the max and produced a lip dub video of Katy Perry's Firework and RadarOnline.com is bringing you a peek of the exciting video.
Nicole Coenen and Lauren Darby are seniors at St. Thomas Aquinas high school in London, Ontario and with the help of their teacher, Mrs. Stephanie Dundas, enlisted the help of nearly half of the 1,250 students and 14 teachers at the school to participate in the video.
Article continues below advertisement
"It was a class project to create a video to promote our school. We studied YouTube trends in class and we looked at various lip dubs," Stephanie told RadarOnline.com in an exclusive interview.
"It took two and a half months of prep and four days of filming. Nicole did the editing including the green screen effects and color correction in about 16 hours. They were awesome!"
And although it took only four days of filming, getting students on board to participate was a much longer effort — with only four showing up at the first meeting — but school spirit kicked in and soon hundreds were involved.
"It was an absolute pleasure working on the lip dub. It was great to see the school come together like it did. Everyone showed just how much school spirit the STA Flames have!" Lauren told RadarOnline.com.
"I have really enjoyed my time here at STA, and I can only hope that the video inspires others here in London to consider coming to STA."
Both Lauren and Nicole plan on attending University for film studies or media arts. Check out the video below and let us know what you think!
"The students are so proud of this video and it has bolstered our school spirit," Stephanie said.