The St. Louis Squirrel Gets A Twitter Account & More!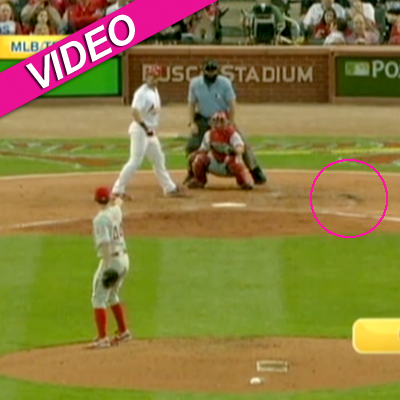 Stars are usually born during the baseball post-season, and this year's unlikely household name has become ... the Busch squirrel!
Yes, the furry little critter who emerged during the fifth inning of the NLDS game at St. Louis' Busch Stadium between the home team Cardinals and Philadelphia Phillies -- the second time in a row, an instance like that has occurred during the best-of-five playoff series -- has sparked a Twitter page, with nearly 8,000 followers.
Article continues below advertisement
Among the 14 accounts the squirrel is following include the official Twitter page of Major League Baseball, the official account of the Cardinals and the accounts of Cardinal hitters Jon Jay, David Freese and Daniel Descalso.
In addition to the Twitter page, the squirrel has sparked some controversial commentary as well, after Philly manager Charlie Manuel remarked the critter would make a quaint hunting target.
"Being from the South and being a squirrel hunter, if I had a gun right there, I might have done something," Manuel said. "I'm a pretty good shot."
The squirrel's Twitter response? "Charlie Manuel is too old to shoot me or have a gun. #toofast"