NFL Star Tom Brady Cuts His Shaggy Hair Into A Sleek, Short Crop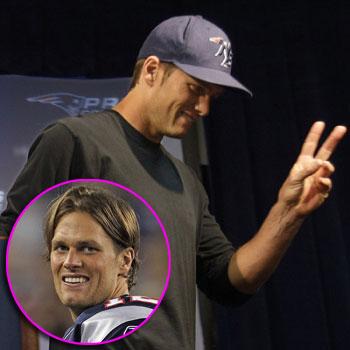 Tom Brady's long hair was one of the biggest controversies in sports last year.
From a shaggy mop to a Justin Bieber bowl cut that had even the Baby singer laughing at him, sports experts analyzed what the three-time Super Bowl winner did in front of the mirror as much as he did on the football field.
Things went from bad to worse as rumors spread that he was trying to cover up a bald spot, then he grew it so long that he had to tie it back into a ponytail or add a very metro sexual hair band.
Article continues below advertisement
Brady blamed his supermodel wife, Gisele Bunchen, for his long look, and when asked if he was going to cut his hair in an interview last year, he replied: "Ah, you'll have to speak to my wife about that."
Now finally Brady has cut his hair into a smart, short crop that makes him look more like the male model -- er, we mean football player -- that he really is.
The New England Patriots quarterback said he chopped his locks, "Just make it nice and neat," reported Yahoo! Sports.
MORE ON:
New England Patriots
Fans take the power of Brady's hair so seriously that Boston.com even ran an obituary for the super star player's lost locks, that comically lamented:
"Tom Brady's long hair passed away on Monday after a brief but controversial life widely chronicled in gossip columns and the sports press. It was 2 years old.
"The death was visually confirmed at a New England Patriots press conference earlier today when Brady appeared before reporters wearing a baseball cap, his chestnut hair closely cropped around the sides.
"His longtime Newbury Street stylist, Pini Swissa, told a reporter that the QB's long locks were cut down in their prime on Monday.
"Born in Foxborough in 2009, Brady's flowing hair went on to achieve international stardom, becoming an object of adoration for some and abhorrence for others."
R.I.P. Brady's hair, you will be greatly missed.
RELATED STORIES: