Brooke Mueller's Wild Ride Continues, Races Out Of Nightclub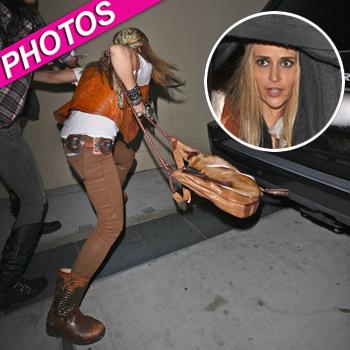 Brooke Mueller definitely isn't letting her felony drug arrest last week slow her down.
Charlie Sheen's ex-wife went to Beverly Nightclub in West Hollywood Saturday night, and her exit was as dramatic as everything in her life seems to be these days.
Wide-eyed Brooke apparently didn't want to be seen leaving the club, so she covered her head with her sweater as she ran out, almost falling over a car, and then ran into Jerry's Deli next door.
Article continues below advertisement
Mother-of-two Mueller was dressed Aspen (the scene of her arrest) style from head-to-toe. She had on several pieces of native American-style bracelets and chains with feathers, a leather vest, super skinny jeans and boots.
As RadarOnline.com reported, Brooke was busted on December 2 after she assaulted a female patron in an Aspen nightclub. When cops tracked her down and arrested her, they allege she was in possession of cocaine. The quantity was sufficient that she was charged with "possession with intent to distribute" the drug.
While her spokesman has said she intends to fight the charges and is sure her attorney will get them dismissed, Brooke's family and friends are urging her to go into a long-term in-patient rehab program.
So far, she's refused.
Her first court date in Aspen is scheduled for December 19.
RELATED STORIES: