Exclusive
Biggest Loser Winner John Rhode Reveals His Holiday Diet Survival Tips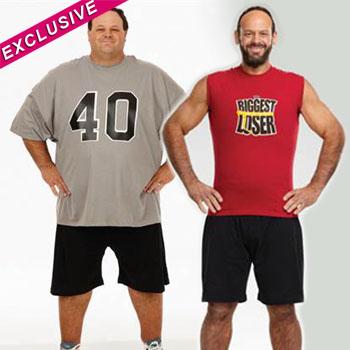 By Debbie Emery - Radar Reporter
The Biggest Loser winner John Rhode is still basking in the glory from being crowned the season 12 winner on Tuesday, but he isn't about to ditch his diet plan for the holidays, even though it is going to be a tough challenge.
"It will be very difficult to maintain my regimen over the holidays," Rhode told RadarOnline.com in an exclusive interview. "I plan on getting my workouts done early in the morning."
Article continues below advertisement
Despite losing a whopping 220 pounds - adding up to 49.44 percent of his body weight - the reality show winner still worries about falling off the wagon and regaining the weight, so he doesn't plan to indulge in all the traditional calorie-laden holiday treats.
"I will be making healthy swaps for holiday meals, we'll be serving tasty, low calorie alternatives. I am also taking advantage of The Biggest Loser meal plans to stay on track."
The 41-year-old teacher from Arizona revealed to RadarOnline.com that his toughest diet torment is carbs.
"I thought I had a sweet tooth, but it turns out I've been craving carbohydrates," he said, adding that finding time to get into the gym is a battle sometimes too. "My biggest temptation has been to tell myself I'm too busy to exercise."
For desperate dieters who are stressed about gaining weight over the holidays, John offered up his best survival tip to keep the scales in balance.
Article continues below advertisement
"My best holiday tip is portion control. You don't need to have seconds or thirds!" he explained.
Now almost half the size he was before going on the show, life is dramatically different for Rhode and he can do simple everyday things that he never could before.
"I can not only see my feet, I can easily tie my shoes!" he laughed, explaining that the future is bright for him. "I am looking forward to living an active lifestyle with my wife and kids."
As famous weight yo-yoers such as Kirstie Alley and Oprah Winfrey have proven time and again, losing the weight is one thing but keeping it off is a whole other struggle, but John already has an emergency plan set up if that happens.
"If I begin to put the weight back on I will reach out to former contestants for help," he explained, along with planning new fitness challenges to keep him focused. "I plan on always having an event that I am training for."