Biggest Loser Trainer Kim Lyons: How I Lost My Baby Weight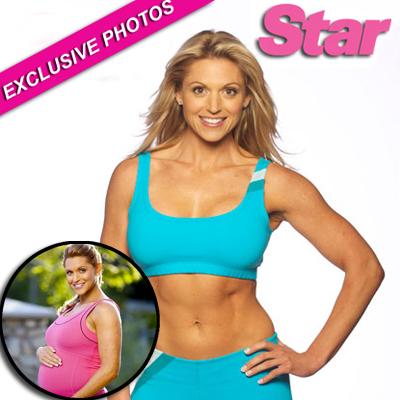 She's the picture perfect poster girl for fitness, but former Biggest Loser trainer Kim Lyons revealed to Star magazine that losing her baby weight was far from easy.
The 38-year-old beauty, who created the "Your Body, Your Life" nutrition bar, gave birth to her son, Jake, in June 2010 and like most new moms, ridding herself of her pregnancy pounds was a challenge.
"I was overwhelmed like, every new mommy," she said. "I was tired, I was out of shape. And I was busy.
Article continues below advertisement
Jenna Fischer Gives Birth To Baby Boy
"It took serious dedication. I set my goals and when I wanted to give up, I called a friend and scheduled a workout with them to make sure I had someone there to keep me accountable."
Lyons -- who is married to German bodybuilder Gunter Schlierkamp -- did two short workouts a day, which included cardio and strength training and she kept a close eye on her diet too.
"I stuck to an extremely healthy diet," said Kim, who ate oatmeal, eggs and smoothies for breakfast, steamed veggies, quinoa and chicken for lunch and big salads with fish for dinner.
But on top of all the exercise and diet, she insists: "Confidence is the most beautiful thing."
Read the full story in this week's Star magazine on newsstands now.
RELATED STORIES: