The 10 Sexiest Big Screen Bombshells Of The Holiday Movie Season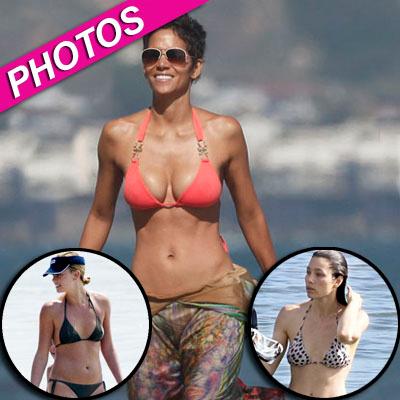 By Leah Ornstein - Radar Style & Beauty Editor
Do we have an early holiday gift for you!
The holiday movie season is underway, and this year there is no lack of sexy on the screen with some of the hottest bombshells in the biz starring in the most talked-about flicks.
RadarOnline.com has picked out the 10 sexiest stars of the holiday movie season, and stripped them down into the tiniest bikinis imaginable!
Article continues below advertisement
New Year's Eve hit the Cineplex over the weekend with the biggest all-star cast imaginable. Jessica Biel, Halle Berry, Hilary Swank, Sofia Vergara and Lea Michele sex up the screen in the romantic comedy of the season – and they also bring a whole lot of sexy to the beach in their barely-there bikinis.
Charlize Theron is finally back in action. After taking a hiatus, the super sexy South African stars in Young Adult, where she plays an alcoholic former Prom queen who returns to her hometown to lure back her married high school sweetheart.
Michelle Williams is getting rave reviews for her portrayal of Hollywood legend Marilyn Monroe in My Week with Marilyn, while Scarlett Johansson will demonstrate her animal instincts in We Bought a Zoo.
Too see the hottest babes of this season's blockbuster lineup, click here.