Blame It On The Alcohol! Adam Lambert Explains Arrest: Jetlag + Vodka = Blackout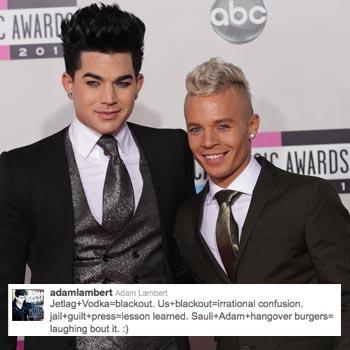 Adam Lambert is taking a leaf out of Jamie Foxx's songbook and blaming it on the alcohol!
As RadarOnline.com previously reported, the American Idol star was arrested Wednesday night in Finland after a fight with his boyfriend, Sauli Koskinen.
The 29-year-old took to his Twitter Thursday morning to explain away the incident, blaming it on booze and lack of sleep.
"Jetlag + Vodka = blackout. Us ÷ blackout = irrational confusion. jail + guilt + press = lesson learned. Sauli + Adam + hangover burgers = laughing bout it. :)"
Article continues below advertisement
The couple got into the altercation outside a gay bar called Don't Tell Momma, according to Finnish reports. When patrons outside the establishment tried to stop the altercation, Lambert attacked them as well, though no one was injured.
Koskinen, also a TV star, won Finland's 2007 edition of the reality competition Big Brother.
Lambert, who finished second in 2009's American Idol competition to Kris Allen, was placed in custody at a facility in Pasila, while Sauli was held at a jail in Toolo.