President Barack Obama On World AIDS Day: 'We Can Beat This Disease'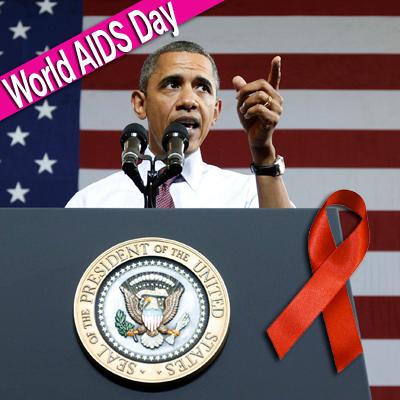 President Barack Obama, at a World AIDS Day event in Washington D.C. Thursday, said, "We can beat this disease" with enhanced treatment, awareness and efforts on a global level.
"The rate of new infections may be going down elsewhere, but it's not going down here in America," the president said. "There are communities in this country being devastated still by this disease.
"When new infections among young, black, gay men increase by nearly 50 percent in three years, we need to do more to show them that their lives matter."
Article continues below advertisement
The commander-in-chief said he would allocate $50 million toward AIDS treatment in the country, with his specific goal to distribute antiretroviral drugs to 2 million more people worldwide in the next two years.
Other objectives the president outlined included: paying for voluntary circumcisions in eastern and southern Africa, as medical findings indicate the procedure can reduce the risk of transmitting HIV -- the virus that causes AIDS -- by more than 60 percent in female-to-male relations; getting more countries aboard the efforts to curb the spread of the virus; and getting more than a billion condoms out to developing countries by the end of 2013.
In his speech, the president thanked Bono and Alicia Keys, both in attendance, for their tireless efforts in battling the epidemic.
Ex-Presidents George W. Bush and Bill Clinton also delivered speeches for the event via satellite.
More than 1.2 million people in the country are living with HIV, according to the White House, adding that 50,000 new infections crop up annually.
For more on the president's latest proclamations, click here.