Natalie Portman Sprints Off Her Baby Weight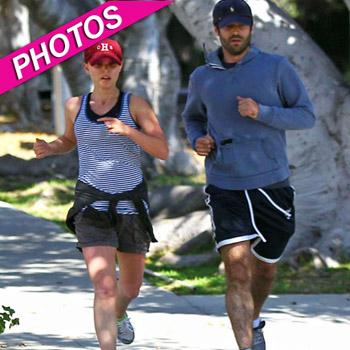 It's just five months since Natalie Portman gave birth and already the Black Swan star's perfect petite figure is back, and RadarOnline.com has the latest photos of how she blasts off the pregnancy pounds.
Portman and fiance Benjamin Millepied welcomed son Aleph last June, and the proud parents and exercise buddies were spotted enjoying an early morning run together in the Los Feliz area of Los Angeles on Monday.
Article continues below advertisement
During her pregnancy, vegetarian Portman said she was happy to spend it lying back in bed and eating popcorn, but since she became a mom for the first time, the 30-year-old has been dedicated to slimming down.
Along with jogging with her main man, the 5'3" Oscar winner works out with trainer Andie Hecker, who combines the strengthening of Pilates with graceful ballet moves.
"Andie Hecker does the most fun sweaty workouts, and the NEXT DAY you're all toned," Natalie revealed on his website, Balletbodies.com.