Runaway Bride Kim Kardashian Back Home After Bailing On Australian Tour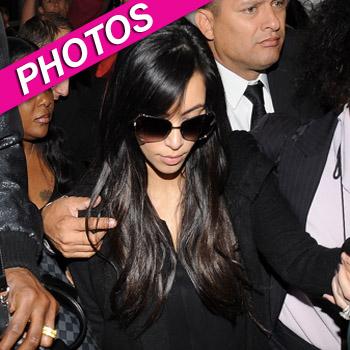 By Alexis Tereszcuk - Radar Senior Reporter
The runaway bride has returned home.
Kim Kardashian landed back in Los Angeles on Friday after cutting her trip to Australia short and RadarOnline.com has the photos of her somber return.
Dressed in all black, which she was wearing when she left Oz, Kim had sunglasses on as she and sister Khloe Kardashian and brother-in-law Lamar Odom fought through the crush of photographers.
Article continues below advertisement
Kim has come under harsh criticism since filing for divorce Monday from her husband Kris Humphries after just 72 days of marriage. She has said she used her "intuition" to decide not to try and make the marriage work, but her husband Kris said that he is "devastated" by her decision and is hoping to try and reconcile.
Kim said she cut her Australian work trip short because she was too upset to continue.
As RadarOnline.com previously reported, multiple sources have told us that the $18 million lavish wedding the pair had in August was a "hoax" and was done for publicity and money.
Kris is in Minnesota right now and was spotted on Thursday without his wedding ring. Kim hasn't been wearing hers since the split but her mother Kris Jenner has come under fire for saying that if Kris wants it back then he is an Indian giver.