Kelly Ripa Gives Heartfelt & Teary Goodbye To Regis Philbin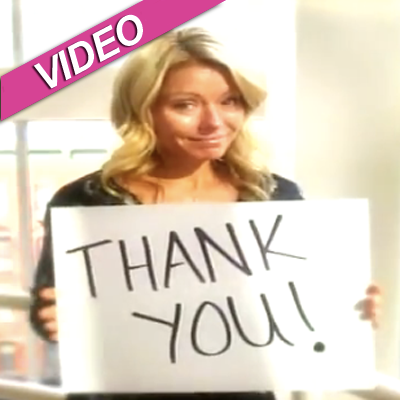 An era ended Friday, as iconic talk show host Regis Philbin made his final appearance after 28 years on his long-running ABC morning show, where he was serenaded with a heartwarming speech from co-host Kelly Ripa.
Kelly said that the 43 steps she took with Regis from the dressing room to the studio floor daily made for a life-changing journey and you can see her entire speech on RadarOnline.com.
Article continues below advertisement
"As I was reflecting, and we were taking our final 43 steps together, I thought back to our first 43 steps and I was absolutely terrified -- absolutely filled with fear -- and you grabbed my hand and we walked down the hallway, came out the door...and you did something for me," Kelly said.
"I've never told you this -- but you said, 'You see that sweetie: That's all for you, all these people are here for you!'"
Kelly continued, "You always want to make me feel like a million bucks, always.
"What I wanted to say was your light shined around all of us and made us look so bright for so long," she told the 80-year-old show biz vet.
Regis said he wanted his show to be one "where people would feel better about themselves, to look at life in a different way, a funnier way."
Regis' former co-host Kathie Lee Gifford was in attendance for the broadcast, as were stars such as Katie Couric, Donald Trump, Alan Alda, Meredith Vieira and Tony Danza.
Article continues below advertisement
He announced he'd be leaving earlier this year, telling viewers "this will be my last year on the show.
"It's been a long time," he said on his January 18 broadcast. "It's been 28 years and it was the biggest thrill of my life to come back to New York, where I grew up as a kid watching TV in the early days, you know, never even dreaming that I would one day have the ability, or whatever it takes, to get in front of the camera and talk to it.
Article continues below advertisement
"That's a loss on their part because I've got to admit, it looks to me like they're kind of forcing you out and I think it's a mistake," the radio host Spike responded. "The audience still loves you. You're obviously still ready to work so I don't know why they wouldn't want you."
"Of course it's a big mistake, but Regis is moving on," Regis said.
Fun fact: In 2004, Philbin appeared on his 15,188th hour on national TV, overtaking the title of the most-filmed television personality from newsman Hugh Downs; as of Friday, his record was well over 17,000 hours.