Regis Philbin: 'Contractual Issues Forced Me To Leave LIVE!'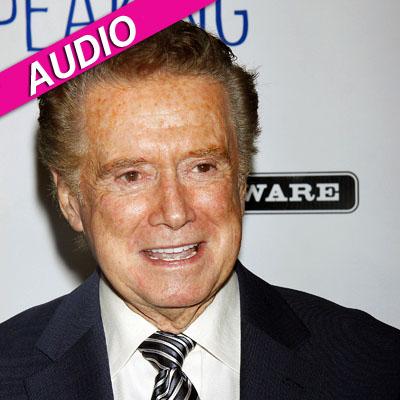 Regis Philbin is admitting publicly that "contractual issues" have forced him to leave his longstanding gig on LIVE! with Regis and Kelly, RadarOnline.com has learned.
The 80-year-old talk show veteran first announced in January that he would be leaving the hit ABC show -- but didn't say why -- and in September he stated his last day will be November 18.
"The contractual issue just never worked out, but I was going to leave before that anyway," Regis said when he opened up to The Mojo in the Morning radio show on Friday.
Article continues below advertisement
"That's a loss on their part because I've got to admit, it looks to me like they're kind of forcing you out and I think it's a mistake," radio host Spike responded. "The audience still loves you. Your obviously still ready to work so I don't know why they wouldn't want you.
"Of course it's a big mistake, but Regis is moving on," Regis said.
But it's not all bad news; Regis says he's ready for a break and has his eyes set on a primetime slot in the future.
"I don't want anything lined up yet. I want to have a few moments of peace alone before I get involved with somebody else," Regis said.
As for who will replace his spot next to Kelly Ripa, Regis says they haven't chosen anyone yet, but his front-runners are her husband, Mark Consuelos and Bravo host Andy Cohen.
"I really don't know and I know they don't know. It's going to be a process of three or four months of her trying out different people, seeing who clicks with her," Regis said.
Article continues below advertisement
"Mark Consuelos, Kelly's husband?" Mojo asked.
"Sure. Let them go at it," Regis said.
"How about The Real Housewives guy, Andy Cohen from Bravo?" Mojo asked.
VIDEO: Howard Stern Slams Jay Leno: 'He's Insane And A Crook'
"Oh she loves Andy. Oh my God, they love each other," Regis responded.
Will you tune in to Regis' last show and are you sad to see him go? Leave your comments below...
RELATED STORIES: