VIDEO: Regis Philbin Retiring -- 'This Will Be My Last Year On The Show'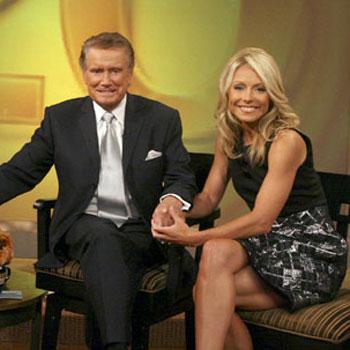 Iconic talk show host Regis Philbin is calling it a career.
The 79-year-old New York native Tuesday told viewers of his long-running ABC morning show, now called Live With Regis and Kelly, that he'll be wrapping it up sometime this summer.
"I don't want to alarm anybody ... this will be my last year on the show," Philbin said.
"It's been a long time: It's been 28 years and it was the biggest thrill of my life to come back to New York, where I grew up as a kid watching TV in the early days, you know, never even dreaming that I would one day have the ability, or whatever it takes, to get in front of the camera and talk to it," the legendary showman said.
Article continues below advertisement
"There is a time that everything must come to an end for certain people on camera -- especially certain old people!" Philbin said.
His co-host Kelly Ripa said in response, "I think I can only speak for America and all of us here when I say it has been a pleasure and a privilege and a dream come true -- and I wish I could do something to make you change your mind."
The Disney-ABC Television Group plans to name a new personality to join Ripa, who has co-hosted the show for nearly ten years.
Last year, Philbin took time off from his hosting duties to have a blood clot removed from his leg. He also had hip replacement surgery in December 2010 and triple heart bypass surgery in 2007.
Philbin is often called the "hardest working man in show business," and with good reason: he set a Guinness World Record for most hours on camera with his Aug. 20, 2004 "Live" show, which gave him a total of 15,188 hours on television. In 2006, his record was updated to 15,662 hours.
Article continues below advertisement
In addition to "Live", Philbin's also known for hosting shows such as Who Wants to Be a Millionaire and Million Dollar Password, and the first season of America's Got Talent.
A three-time Emmy Award winner, Philbin was honored with a Lifetime Achievement Award from the National Academy of Television Arts & Sciences in 2008.
RELATED STORIES:
VIDEO: Newlywed Russell Brand Shows Off Ring To Regis & Kelly