KD Lang Says Justin Bieber Looks Like A 'Hot Lesbian'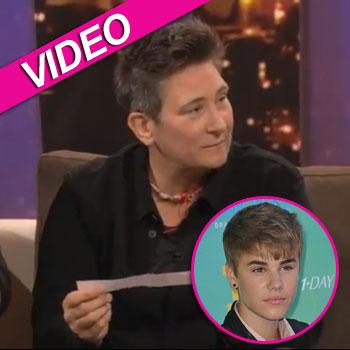 kd Lang has a unique take on teen singer Justin Bieber. The openly gay singer says Biebs looks like a "hot lesbian!"
Lang was speaking on RoveOnline -- the outrageously funny podcast show of Australian comedian Rove McManus. She was a guest on a recent episode, along with NCIS: Los Angeles star LL Cool J and Dexter star Michael C. Hall, and each was asked a question from a viewer in a segment called Random Question Hat -- so named because the questions are literally pulled out of a hat.
Article continues below advertisement
The question to kd: "Justin Bieber, hot or not."
Lang loved getting a question about a fellow Canadian.
"Justin Bieber looks like a lesbian," she said without skipping a beat. "So I'm going to say - hot as sh*t!"
Wonder what Selena Gomez thinks about that!