Lawyers For Justin Bieber's Accuser: 'We Have Credible Evidence He's The Father'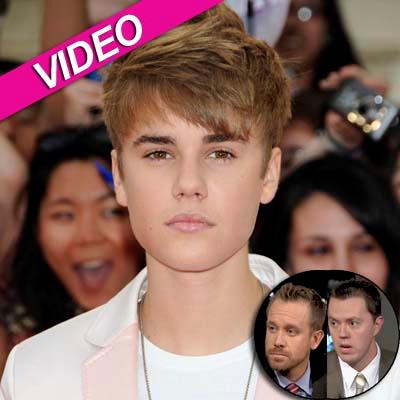 Lance Rogers and Matthew Pare, the attorneys for the woman who's filed a paternity suit against pop star Justin Bieber, told HLN Thursday night they're still sitting on "credible evidence" and undisclosed details that confirm the pop star is the baby's father.
As first reported by Star magazine, Mariah Yeater said in court papers filed in San Diego that she and Bieber had an unprotected, 30-second fling in a backstage bathroom at the Staples Center following an October 2010 show. She said the 30-second sexual encounter with the singer resulted in her son Tristyn Anthony Markhouse Yeater, who was born July 6.
Article continues below advertisement
"In the relevant time period, she wasn't having sex with anyone else," Pare said. "That's how we know Justin Bieber is, in fact, the father of the baby... we need the paternity test to verify that scientifically, 100-percent."
Pare called Yeater's child support requests "modest," and implored Bieber to "step up and take the test."
Pare said his team has been "left with no other choice" than to file the paternity suit, as Bieber's camp has been unresponsive to Yeater's requests, so far.
Regarding the previously undisclosed details, Rogers added that "it was important for us to make sure we had the details correct and that those details were verified and signed by our client."
Asked how they would face the penalties if a paternity test reveals Bieber is not the father -- and he goes after Yeater, legally -- Pare called the odds of it happening "highly unlikely based on the evidence we have, not all of which has been released to the media, by any means.
Article continues below advertisement
"There's credible evidence that supports he is the father," Pare said.
The lawyers said haven't gone public with the other evidence yet, so as to "give Justin Bieber an opportunity to come to us and resolve this."
Bieber on Friday told the Today Show, "I'd just like to say that basically none of these allegations are true. I'm gonna be a target, but I'm never gonna be a victim... it's crazy that someone would want to make up some false allegations, but none of it is true -- I've never met the woman!"