Justin Bieber And Selena Gomez In Belfast For MTV European Music Awards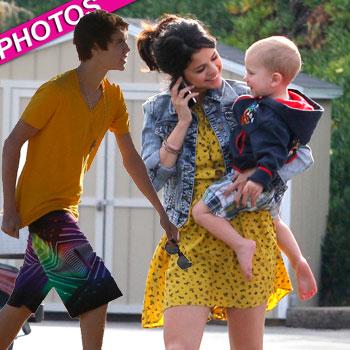 Selena Gomez is hosting the MTV European Music Awards Sunday night and the most anticipated trophy of the ceremony will be going to her boyfriend Justin Bieber.
Selena appeared at a press conference Saturday promoting the event but there were no questions about Biebs or the paternity scandal that is swirling around him.
She smiled and was friendly and upbeat when talking about the awards ceremony, taking place in Belfast, Northern Ireland.
Article continues below advertisement
As RadarOnline.com has been reporting, 20-year-old Mariah Yeater has filed a paternity suit alleging Bieber is the father of her three-month-old child. She's asked the court to order a paternity test, and assuming a positive result, she wants child support from the singer.
Justin, 17 and Selena, 19, have been dating a year and on Friday, a source told RadarOnline.com Justin is denying he's the baby's father and Selena is standing by her man.