The Biggest Celebrity Baby Scandals!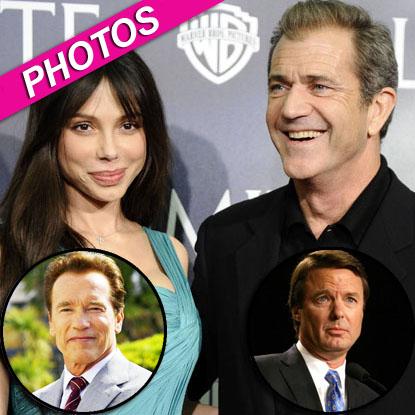 Justin Bieber isn't the only celebrity who has been involved in a little baby drama.
A 20-year-old California woman has filed a lawsuit against the Canadian pop star, claiming that he impregnated her in a bathroom after one of his shows -- but the 17-year-old isn't the only Hollywood star who has been involved in baby drama.
RadarOnline.com has photos and details about the biggest celebrity baby scandals of all times.
Article continues below advertisement
Some of the biggest baby dramas all times have involved politicians.
The world was absolutely shocked when The National Enquirer broke the news that Presidential candidate John Edwards had fathered a baby out of wedlock with videographer Rielle Hunter – and to make matter worse, Edwards' wife Elizabeth was dying of cancer at the time!
And then there was the case of former Governor of California and Last Action Hero Arnold Schwarzenegger! The actor and his Kennedy clan wife Maria Shriver seemed to be the happiest couple in town, until it was revealed that Arnold had fathered a 14-year-old son – with their family housekeeper!
First Photo Of Justin Bieber's Alleged Baby
Liv Tyler always knew she was rock royalty, but she happened to have the rocker wrong! Born Liv Rundgren, the model-turned actress grew up thinking that Todd Rundgren was her father and Playboy Playmate Bebe Buell was her mom, but at the age of nine learned that her real dad was Aerosmith singer Steven Tyler!
It's hard to believe that someone wouldn't want to take credit for fathering Elizabeth Hurley's child! The gorgeous supermodel was surrounded by scandal when she announced that billionaire Steve Bing was the father of her unborn child - and he denied it! After her son Damian was born, DNA tests confirmed the Brit beauty's words.