Jessica Simpson Keeping Mum On Weight Watchers Rumors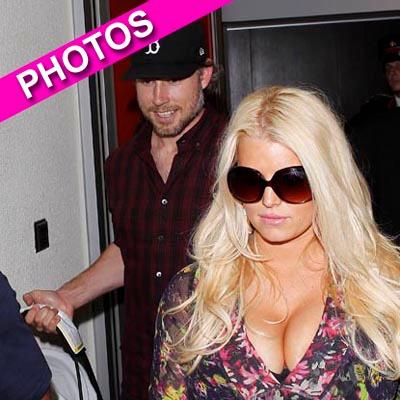 It's never too soon to make a diet plan, especially for someone who has had trouble shifting the pounds in the past.
Jessica Simpson is reportedly planning ahead and already deciding how she's going to ditch her baby weight after her first child with fiancé, Eric Johnson, is born next year.
It has been speculated that the 31-year-old star is going to try her hand at Weight Watchers to get her Dukes of Hazzard's body back, and even plans to sign on as spokesperson for the brand by inking a $4 million dollar deal.
Article continues below advertisement
The famous diet company can not yet confirm that Simpson is going to be working with them until the arrangement is finalized, but they are also not denying it.
"We talk to many people about Weight Watchers, but as a matter of policy, we don't discuss or comment publicly until an official announcement is made," a spokesperson for Weight Watchers told RadarOnline.com.
Even before she got pregnant, Jessica faced speculation over her weight gain but was adamant that she was happy with her new curvy figure.
"I like the way I look," Simpson told Lucky magazine.
"Everybody fluctuates, but I'm open about my weight and I'm still confident. I didn't cry about it too much."
As RadarOnline.com previously reported, Mariah Carey is the latest celeb to sign up with a weight loss giant after announcing last week that she is the new brand ambassador for Jenny Craig, now simply known as Jenny.
After piling on the pounds during her pregnancy, the Grammy award-winning singer took the plunge to join Jenny in July and kick-started a 1,500 calorie-a-day diet and three times-a-week workouts.