Exclusive
JLo's New Boy Toy Has Criminal Record & Had Three Warrants Issued For His Arrest!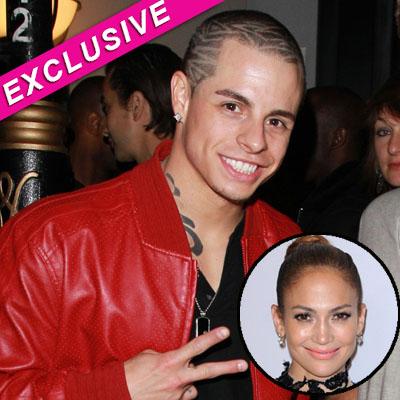 By Jen Heger - RadarOnline.com Legal Editor
Jennifer Lopez's new boyfriend, Casper Smart, has a criminal record, and has had three warrants issued for his arrest for failure to appear at required court hearings, RadarOnline.com is exclusively reporting.
Smart, whose real name is Beau, was arrested on April 12, 2010 for speeding.
EXCLUSIVE DOCUMENTS: Jennifer Lopez' New Boyfriend Has Criminal Record
The dancer who appeared with JLo at the American Music Awards on Sunday night, was formally charged with California Vehicle Penal Code which states, "A person shall not engage in, a motor vehicle exhibition of speed on a highway, and a person shall not aid or abet in a motor vehicle exhibition of speed on any highway."
Article continues below advertisement
Judge David Hancock issued a warrant for Smart's arrest on April 15, 2010, for failure to appear, and set bail at $26k. The warrant was outstanding until February 8, 2011, at which time Smart's lawyer formally pleaded his client not guilty to the charge, and the warrant was recalled.
Smart pleaded no contest on March 29, 2011 to the speeding charge, and appeared in court with his lawyer. JLo's boyfriend was ordered to appear on January 5, 2012 for a sentencing and probation hearing.
On March 3, 2006, Smart was arrested for driving on a suspended license, not having insurance, and speeding.
On March 11, 2006, Judge Michael Vicencia issued a warrant for Smart for failure to appear in court at his arraignment. Bail was set at $5k. On January 10, 2007, Smart finally appeared in court, and pleaded no contest to not having a valid driver's license, with the remaining charges dismissed. The warrant was recalled.
Article continues below advertisement
Smart was ordered to perform 86 hours of community service, instead of spending five days in county jail. On October 19, 2007, Smart was supposed to provide proof to the court that he had completed the community service. Smart had another warrant issued for failure to provide proof, and probation was revoked.
Smart appeared at the Torrance courthouse on July 9, 2008 to pay his fine, and provided proof of completion of community service, and payment of his fine. The warrant was recalled.