Caught On Tape! Helicopter Installing Christmas Tree Crashes In New Zealand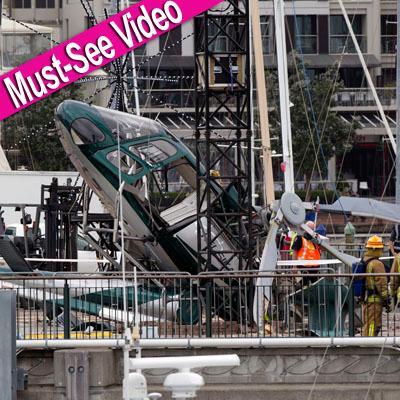 A helicopter helping to install a seven-story Christmas tree in Auckland, New Zealand Wednesday crashed in dramatic fashion, and it was all caught on tape!
It happened when the helicopter's rotors hit a cable meant to hold up the tree. In just a matter of seconds, the copter was nearly ripped in two and plunged to the ground in a mangled mess.
Pilot Greg Gribble, dressed in a fluorescent safety vest, was violently tossed around the cockpit like a rag doll; he appeared to fall out of the helicopter's door before his harness snapped him back inside.
Article continues below advertisement
Gribble – who has 20-years of flying experience -- crawled out of the wreckage as people rushed to help him; somehow, he escaped serious injury.
Gribble said he's "doing fine" after his ordeal.