Brad Pitt: I Only Want To Act For 3 More Years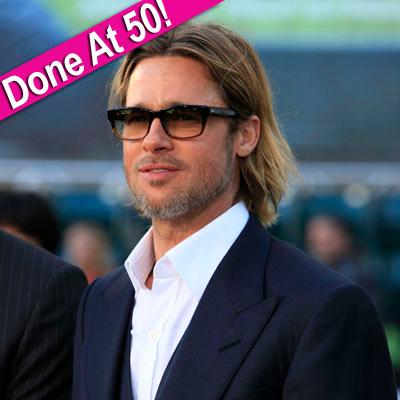 You can hear women's hearts breaking all over the world.
Brad Pitt only wants to act and appear on the big screen for three more years, RadarOnline.com has learned.
The 47-year-old, promoting the Aussie opening of his baseball flick Moneyball, told the Australian version of 60 Minutes host Tara Brown that he plans to be done working in front of the camera in 2014 -- the year he turns 50.
Article continues below advertisement
"What happens after three years?" Brown asked the perennial A-lister.
"Hell if I know -- hell if I know," he said. "I am really enjoying the producing side and development of stories and putting those pieces together. And getting stories to the plate that might have had a tougher time otherwise."
In the chat, Brown put the Ocean's Eleven star on the spot with a question about his co-star and pal, George Clooney.
"I promise I won't tell him, but out of you and George, who is the sexiest man alive?" she asked the Fight Club star, who responded, "I'm gonna – I'm gonna go out on a limb: I'm gonna say me.
"I'm gonna say me."
Fun fact: Brad broke into the business with uncredited roles in 1987 films Less Than Zero and No Way Out.
RELATED STORIES:
Brad Pitt And Angelina Jolie Tour Infamous 'Tiger Cages' Prison In Vietnam