Wife Of Polygamist Warren Jeffs Escapes Community With Help From Police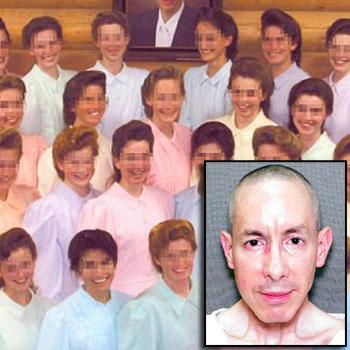 One of the wives of polygamist cult leader Warren Jeffs made a dramatic escape from his sect on Monday night with the help of police, RadarOnline.com has learned.
The barefoot woman, who is among an estimated 85 wives married to the convicted sex offender, fled from the Fundamentalist Church of Jesus Christ of Latter-Day Saints in Colorado City, Arizona, and is now getting psychiatric treatment and counseling at a nearby women's shelter.
Article continues below advertisement
Sheriff deputies arrived on a "keep the peace" call at about 3 p.m., said Detective Nate Abbott, according to a report in the Salt Lake Tribune.
"She asked for assistance in leaving the community, and a deputy responded and facilitated that request," he explained.
As RadarOnline.com previously reported, Jeffs is in prison serving a life sentence after being found guilty of sexually assaulting two young girls, ages 12 and 15, whom he claimed were his "spiritual wives."
The 25-year-old escapee, who has not been named, was living with her parents in the religious community on the isolated Arizona compound along with 5,000 other residents, but ran away to the home of Willie Jessop, former spokesman for the Fundamentalist Church of Jesus Christ of Latter-Day Saints, who currently supports a rival seeking to replace Jeffs as prophet.
The situation quickly spiraled into a stand-off with FLDS men outside of Jessop's office, which was when the police were brought to diffuse the situation.
Article continues below advertisement
"It's all about the welfare of a girl who sought help," Jessop, who was kicked out of the religion by Jeffs, told the Tribune. "We're keeping this focused on what's in the best interest of the young lady."
Very few women that 55-year-old Jeffs has taken as wives have ever escaped from the strict community.
One former member of the FLDS Church opened up about her experiences as a teen bride in the cult to Anderson Cooper last month, as reported by RadarOnline.com.