Suri Cruise Wears Heels As She Outdresses Mom Katie Holmes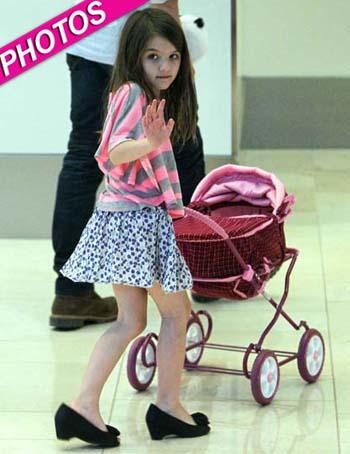 Suri Cruise has a new pair of heels! The five-year-old fashionista was spotted wearing ever-so-stylish black pumps as she walked with her parents Katie Holmes and Tom Cruise on Saturday.
Suri was dressed in a too-cute short shirt and contrasting top, as she waved like a pro to a photographer while pushing a miniature baby carriage.
Mom and dad were much more casual. Katie was in jeans and a bland T-shirt while Tom was in jeans and an un-tucked white shirt when they were spotted outside their hotel.
Article continues below advertisement
This isn't the first time Suri has been seen in heels. She started wearing them when she was only three causing a storm of controversy.
"They're ballroom dancing shoes for kids," Holmes said at the time, defending the practice.
The Cruise-Holmes clan is in Pittsburgh, where Tom is shooting his next movie.
RELATED STORIES:
Painted Lady! Suri Cruise Rocks Red Lipstick