Stuntman Dies Filming Scene For The Expendables 2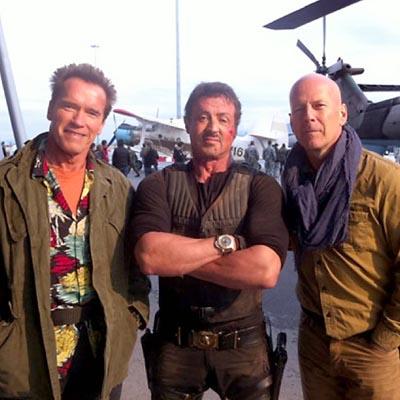 A real life tragedy has struck the set of the action film The Expendables 2, starring Sylvester Stallone, Bruce Willis and Arnold Schwarzenegger in his comeback role.
A stuntman died while filming an action scene for the movie in Bulgaria, local newspaper The Sofia Echo reported Friday.
The accident happened Thursday when two men were performing a stunt that involved an explosion in a rubber boat. They were on the Ognyanovo reservoir near Elin Pelin, located 15 miles outside the capital, Sofia.
Article continues below advertisement
The second stuntman is hospitalized -- reportedly unconscious -- but in stable condition after undergoing a five-hour operation.
It's not known what caused the explosion.
The production company for the star-studded movie, Nu Image/Millennium Films, released a statement saying, "It is with great regret that we confirm this unfortunate accident."
"Our hearts go out to the families and those on the production affected by this tragedy. The filmmakers are working closely with the authorities in responding to and investigating this accident," a spokesperson added.