Steven Tyler On Bathroom Slip: 'It Was An Accident, Not A Relapse'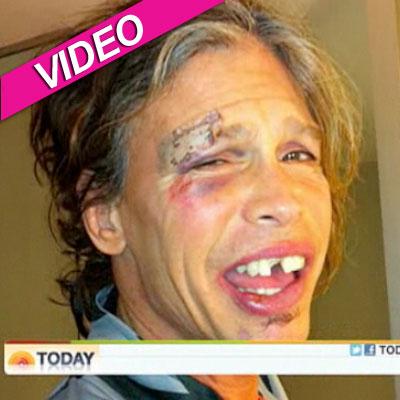 No, Steven Tyler's slip and fall in a South American hotel was not the same ol' song and dance -- the Aerosmith front man said Thursday it was just an accident, not a relapse.
The 63-year-old Sweet Emotion singer -- who sported a black eye, two missing teeth and cuts and bruises to his face after the incident Tuesday -- told The Today Show's Matt Lauer on Thursday that he got his battle scars after venturing into the bathroom while suffering from a wicked case of Montezuma's revenge (Traveler's diarrhea).
Article continues below advertisement
"I went in looking like Baryshnikov," Tyler said, "and walked out looking like boxer Leon Spinks!"
Asked by Lauer what exactly happened, Tyler said, "Just quite frankly I passed out... I fell on my face, I woke up with the water running on me, not knowing where the hell I was."
In January of this year, Tyler admitted that snorting a prescription sleeping aid caused him to fall off the stage during an August 2009 concert in South Dakota -- a time he said that he "was looking for any excuse to get high."
In regards to whispers he might have fallen off the wagon, Tyler said on Thursday, "Being in the program I'm in, it's something we have to accept. I went public with my problems only to address them straight on -- people thinking I relapsed is natural and normal.
"It still bothers me a little, but it's something I'll have to deal with the rest of my life."
Tyler said he braved on and took the stage for Wednesday's record-setting concert in Asuncion, Paraguay.
Article continues below advertisement
Steve-O Breaks His Nose (On Mike Tyson's Fist) At Comedy Central Roast
"I wore my sunglasses for my first song, took 'em off and the crowd roared," he said. "Not only did I break my face but we broke the house record -- life is beautiful Matt!"
Watch the video on RadarOnline.com
Aerosmith is slated to resume work on its' first all-new studio album in ten years in early 2012, right after the holidays. Tyler will also return as a judge for the 11th season of American Idol, which premieres on Fox on Sunday, January 22, 2012. The show will air on Wednesdays and Thursdays at 8/7c.