Steven Tyler Sports Black Eye & Fixed Teeth After Bathroom Fall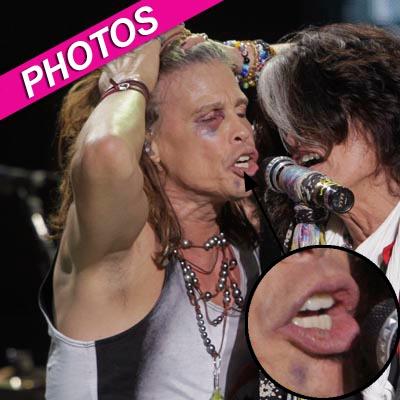 Radar Senior News Director
The show must go on -- and it did! (Eventually.)
His teeth were fixed, but Aerosmith front man Steven Tyler sported a black eye and bruises to his face Wednesday night during a concert in Asuncion, Paraguay on the first stop of their Latin American tour.
The concert -- originally scheduled for Tuesday evening -- was delayed by one day after Tyler, 63, slipped in his hotel bathroom and knocked out two teeth and bruised his face earlier in the day.
Article continues below advertisement
Tyler was immediately rushed to the hospital and received emergency dental work and stitches to repair cuts to his face.
"Mr. Tyler had a small accident that prevents him from staging the concert tonight," Marcelo Antunez, a spokesperson for the show's promoter said following the incident. "He is fine, he's in his hotel but he's not able to do the concert."
Another spokesperson for the promoter, Nicolas Garzia, tweeted that Tyler had been dehydrated and was suffering gastrointestinal problems before he fell.
Meanwhile, Aerosmith is expected to resume work on its first all-new studio album in ten years in early 2012, right after the holidays.
Justin Bieber Slips Into Selena's Concert
Tyler will also return as a judge for the eleventh season of American Idol, which premiere on Fox on Sunday, January 22, 2012 following the 2011–12 NFL playoffs. The show will air on Wednesdays and Thursdays at 8/7c.
RELATED STORIES: