Senior Citizens Accidentally Get High On Pot Brownies At A Funeral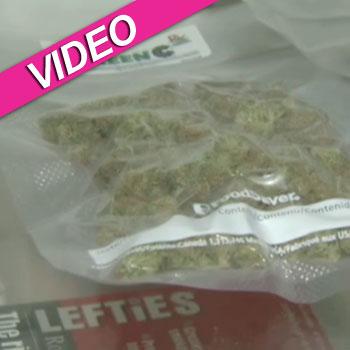 Three senior citizens had an unexpected trip that landed them in hospital after accidentally eating pot brownies at a funeral, RadarOnline.com has learned.
The trio of elderly people were at a memorial service for a mutual friend in Huntington Beach, California, when they started to suffer from "nausea, dizziness, and inability to stand unassisted" after eating what they thought were innocent chocolate treats, reported the Orange County Register.
Article continues below advertisement
According to the Huntington Beach Police Department's Facebook page: "At the service, a tray of brownies were offered that has since been determined to have contained 'medical' marijuana.
"No one was told the brownies contained the marijuana before they were consumed."
The accidental drug users, a man aged 82 and his two 71-year-old female friends, ended up in Hoag Memorial Hospital in Newport Beach on Saturday night where they were treated and later released.
The memorial service was held in the banquet hall of a Huntington Beach golf course and the hash brownies were passed around on a tray like any other dessert.
"Our understanding is the person who passed away consumed brownies with medical marijuana in them, and apparently somebody put out a tray maybe in honor or tribute to that person, but didn't tell everybody what was in them," Lieutenant Russell Reinhart of the Huntington Beach Police told ABC News affiliate KABC.
Article continues below advertisement
"People were consuming the brownies without knowing they had the marijuana in them," the officer explained.
Police don't know who the mystery baker was who added the special hallucinogenic ingredient but said that they won't be charged as it appears to be an unfortunate accident.
MORE ON:
Celebrity Justice