Exclusive
Ryan O'Neal Suing University Of Texas Over A Napkin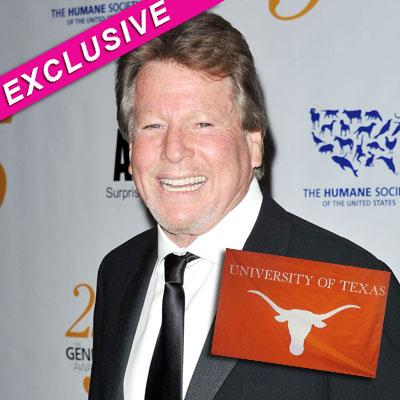 Ryan O'Neal has filed a counter-suit against the University of Texas over an Andy Warhol napkin, RadarOnline.com is exclusively reporting.
Farrah Fawcett's alma mater, the University of Texas, filed a lawsuit against O'Neal in August, demanding that he turn over an Andy Warhol painting of the late actress he was in possession of, that the Charlie's Angels star had bequeathed to the school after she died.
Article continues below advertisement
EXCLUSIVE DOCUMENTS: Ryan O'Neal Files Counter-Suit Against University Of Texas
Within his lawsuit, O'Neal admits to having had a volatile relationship with Fawcett. "Ms. Fawcett and O'Neal had an extremely close, but sometimes tumultuous relationship," the court documents state. "During the last 30 years of Ms. Fawcett's life they lived together on and off again. They were never married.
"On those several occasions when Ms. Fawcett and O'Neal stopped living together, Ms. Fawcett would remove certain items from O'Neal's home, including artwork and collectibles created by Warhol and others. O'Neal did not seek immediate physical return of those items, however, because he knew that they would eventually reconcile and once again share the same home."
The lawsuit asserts that Ryan O'Neal is being bullied and harassed by the teaching institution. "The University of Texas is a multi-billion dollar entity. It continues to use its vast publicly funded financial resources to bully and harass Academy Award and Golden Globe nominated actor Ryan O'Neal into giving up possession of artwork he received from his friend of many years, the late Andy Warhol," the papers allege. "The University filed the underlying lawsuit in this Action to pressure O'Neal into surrendering his prized Warhol portrait of Farrah Fawcett, apparently believing it to be worth many millions of dollars."
Article continues below advertisement
After Fawcett died of cancer in 2009, artwork that she owned was taken into possession by the university. However, O'Neal alleges that some of the items that the school has in their possession now are his, because he contends that it belonged to the former couple, and was not solely Farrah's.
"Among the items removed from Ms. Fawcett's home and received by the University, however, was artwork that did not exclusively belong to Ms. Fawcett, but was jointly owned by O'Neal and Ms. Fawcett. This includes the Warhol 'Napkin' which was owned jointly by Ms. Fawcett and O'Neal. In fact, the Warhol napkin is inscribed by Warhol "To Farrah F. and Ryan O," the lawsuit states.